Our services
TECHNICAL MANAGEMENT
The technical management is aimed at those who own a racing car (Climb, rally or circuit) and need to leave their car in prepared hands.
It is a very important part both for the final competitive result and for the economic factor, this includes the normal maintenance of the car:
cleaning
wear material checks
geometry check
hardware control etc.
then move on to material reviews such as:
gear
brakes
bearings
wheels
engine
Works supported by cards that take into account the mileage covered by all this material in order to intervene in a targeted manner and with modern techniques saving time and unnecessary expenses ensuring better overall reliability.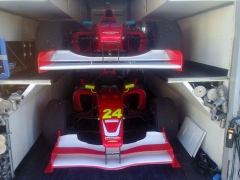 Technical management also means the possibility of transport and assistance on the competition fields by providing customers with a modest but competent and reliable organization, with specific equipment and passion for this job, which are essential to achieve the best possible results in race !!
Other services …

TECHNICAL MANAGEMENT

RACING CAR RENTAL

ROAD CAR WORKSHOP